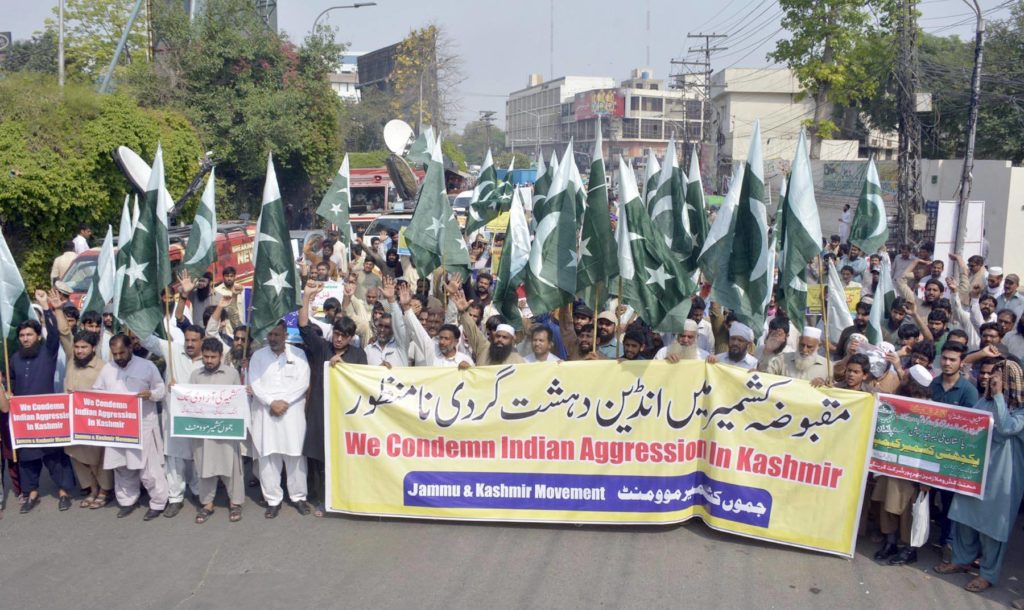 The Pakistani government and foreign office have started attempts at national and international level to warn the world of Indian atrocities in disputed Kashmir. India has not only started to abolish the special status of Kashmir but also attempting atrocities in Kashmir by flooding the area with thousands of troops, evacuated tourists, closing schools and cutting off internet services.
Pakistan has rejected the abolishment of Article 370. Prime Minister Imran Khan called off to Turkish PM Erdogan, Malaysian PM Mahathir and briefed them about  India's move in occupied Kashmir. He called it an attempt to destroy regional peace.
Pakistan has decided to give briefing to the permanent five members of the United Nations Security Council. A letter mentioning the Indian violation was written to the United Nations.
The foreign office has recorded its protest with the Indian Embassy and the Indian government. Foreign Minister Shah Mehmood Qureshi said that India has lost control of the situation in the occupied Kashmir and it is wants to divert attention from this issue by creating a contentious situation.
Maleeha Lodhi (Pakistan's Ambassador at the UN) said that FM Qureshi's letter to UN Secretary General 'on the grave situation in occupied Kashmir has also been circulated among members of the UN Security Council'. She tweeted,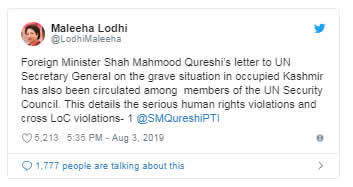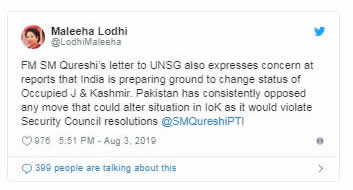 DG ISPR said "it is time for the international community to take notice of India's blatant violation of international laws on the use of cluster ammunition targeting innocent citizens".
Countrywide protests have erupted against Indian atrocities in the Kashmir. The whole Pakistani nation is showing its full support to the Muslims of Kashmir and are raising their voices.