Afghan Taliban and US deals in progress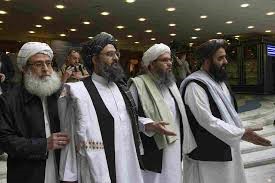 The Taliban said Saturday that they expected negotiations with the United States to conclude the following day, finalizing a peace deal to end the 18-year-old war in Afghanistan.
The crucial ninth round in the yearlong dialogue between the two adversaries started Thursday in the traditional venue, the Persian Gulf state of Qatar. Afghan-born U.S. diplomat Zalmay Khalilzad is leading the American team of negotiators.
Taliban spokesman Zabihullah Mujahid told VOA on Saturday that the two sides were fleshing out details of a mechanism for U.S.-led foreign troops to withdraw from the country.
The essence of the deal, which Mr Khalilzad has said he wishes to strike by September 1st, before Afghanistan's election on September 28th, is simple enough. America will pull troops out of Afghanistan, satisfying the Taliban's principal war aim, and in return the Taliban will sever their ties to transnational terrorist groups like al-Qaeda and promise that Afghan soil will not be used for attacks, dealing with the problem that led America to invade 18 years ago.