Lockdown in disputed Kashmir, hundreds injured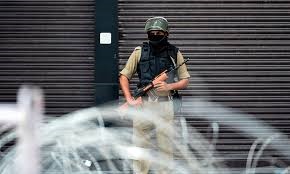 At least 500 incidents of protest have broken out in Indian Kashmir since New Delhi revoked its autonomy more than three weeks ago, a senior government source told AFP on Wednesday, as authorities promised to create 50,000 jobs in the restive region.
The Himalayan valley is under a strict lockdown, imposed hours before India's decision to bring Kashmir under its direct rule. Movement is restricted and phone and internet services have been cut.
The lockdown, as well as the deployment of tens of thousands of extra troops to reinforce the 500,000 based in Kashmir, was ordered amid fears of unrest in a region where separatists have waged an armed rebellion against Indian rule since 1989.
But protests have broken out, including in the main city of Srinagar, with police using pellet guns and tear gas to disperse the crowds.
A senior government source told AFP at least 500 protests and incidents of stone throwing have occurred since Aug 5, with more than half taking place in Srinagar.