Whole country to protest for solidarity with Kashmir, says Qureshi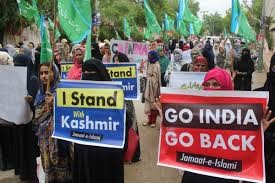 Foreign Minister Shah Mehmood Qureshi says whole country will hold protest tomorrow against the unilateral steps taken by India in Occupied Kashmir and to express solidarity with their Kashmiri brethren.
He was giving a briefing during a meeting of Parliamentary Committee on Kashmir chaired by Fakhar Imam in Islamabad today.
The Minister said protest will be held each Friday on 12 pm across Pakistan on the suggestion of the parliament.
He said two of the three parties on Kashmir have out rightly rejected the unilateral Indian steps in Occupied Kashmir. He said even in India there are clear gulfs on these steps.
Appreciating the joint session of the parliament and a unanimous resolution on Kashmir, the Foreign Minister said it showed all parties across the spectrum are united in opposing the illegal steps of India.
He said discussion on Kashmir at the UN Security Council was a great achievement of Pakistan which was held despite India's hectic efforts to stop it.