Helicopter crash landing in Manhattan, one killed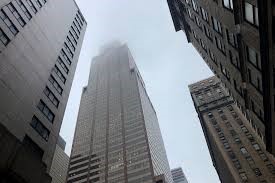 The pilot of a helicopter has died after it crash landed on top of a skyscraper in Manhattan.
The helicopter burst into flames on hitting the AXA Equitable Center, but there were no other casualties.
The pilot has been identified as Tim McCormack, a veteran aviator. An investigation is under way.
Eyewitnesses said the building shook with the impact and they were reminded of the plane attacks on the city in September 2001. Officials quickly ruled out any terrorist element to the crash.
It occurred on a rainy and foggy Monday afternoon at 787 Seventh Avenue, just north of Times Square.
The twin-engine Agusta A109E, carrying only the pilot, had taken off from a heliport on Manhattan's east side at 13:32 local time. It was reportedly heading to Linden Airport in New Jersey.
Eleven minutes later it plunged into the top of the 54-storey office building, in what was described as a forced or emergency landing.