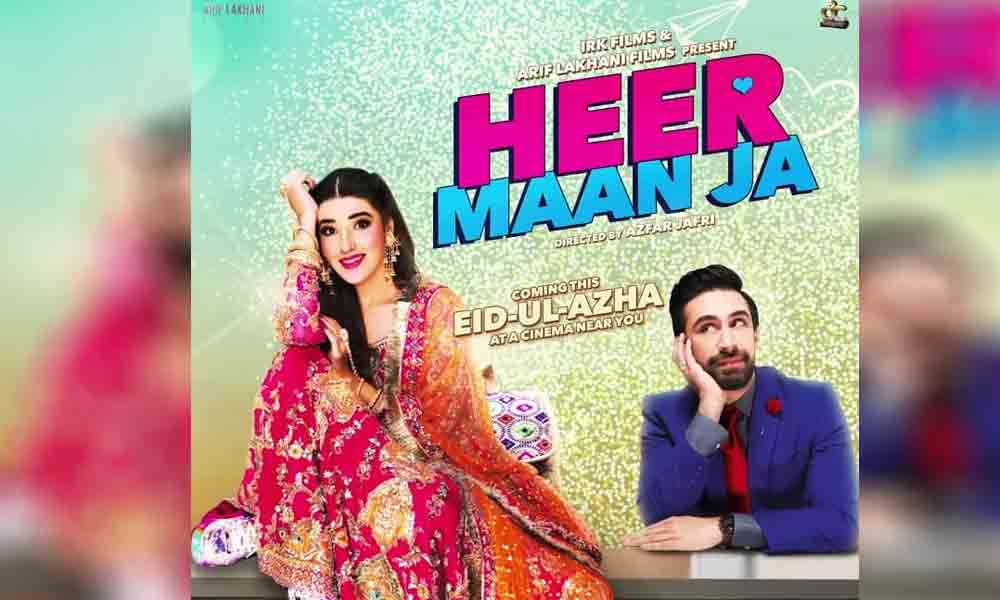 The trailer of upcoming Pakistani romantic comedian film, 'Heer Man Ja', has been released.    
Heer Maan Ja is an upcoming Pakistani romantic comedy film, directed by Azfar Jafri. 
The film is produced by Imran Raza Kazmi under the banner of IRK Films; the film is distributed by the Distribution Club.It will also be the fourth film from IRK Films directed by Azfar Jafri.
The film stars Ali Rehman Khan, and Hareem Farooq in the lead roles, alongside Faizan Shaikh, Shamayale Khattak, and Mojiz Hasan in the supporting roles. 
The film is scheduled to release on 12 August 2019 on occasion of the Eid al-Adha.
In an interview with Papperazi about Heer Maan Ja, CEO & Producer IRK Films, Imran Raza Kazmi said, "Heer Maan Ja" will be a different take on films and humor and people will see Hareem (Farooq) and Ali (Rehman Khan) in a completely different look and avatar compared to Parchi.  This will be Hareem Farooq's second movie as a lead cast with Ali Rehman Khan, including Parchi released in 2018.
In an interview with  Hareem Farooq, she said " Heer Maan Ja is a family entertainment film with a heavy dose of entertainment and families can enjoy the film on a special occasion like Eid ul Adha."
Talking to the media, Director Azfar Jafri said "Heer Maan Ja will be different than his previous films as it is packed with comedy, action, and entertainment."
Ali Rehman Khan said "I really enjoyed working on Heer Maan Ja. I have high expectations with the film and I really hope everyone will like the film."
Produced by 
| | | |
| --- | --- | --- |
| Hareem Farooq | … | co-producer |
| Imran Raza Kazmi | … | producer |
| Arif Lakhani | … | co-producer |
Cinematography by 
| | | |
| --- | --- | --- |
| Rana Kamran | … | director of photography |
Film Editing by 
| | | |
| --- | --- | --- |
| Mitesh Soni | … | promo editor |
Visual Effects by 
| | | |
| --- | --- | --- |
| Syed Mujtaba Ali | … | visual effects producer |
Written By:   
Owais Korai Baloch
Cast:
Ali Kazmi
Aamina Sheikh
Hareem Farooq
Ali Rehman Khan
Ahmed Ali Akbar
Saleem Mairaj
Munazzah Arif
Faizan Sheikh
Mojiz Hasan
Abid Ali
Shamayale Khattak
Samina Nighat