Prime Minister Imran Khan extends congratulation to Modi, calls on for peace in the region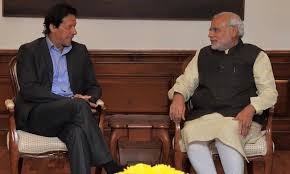 Prime Minister Imran Khan on Sunday telephoned Narendra Modi to congratulate him on the Bharatiya Janata Party's (BJP) electoral victory in the Indian election, Foreign Office spokesperson Dr Mohammad Faisal said.
Indian Prime Minister Narendra Modi's Hindu nationalist BJP increased its majority in India's election with its best-ever tally of 303 seats on Friday. The main opposition party, the Indian National Congress, trailed the BJP with 52 of the 543 seats in parliament.
Modi, who coasted to a landmark win on the back of nationalist, anti-Pakistan rhetoric and a vision of a Hindu-first India, urged his coalition's newly elected MPs on Saturday to work for communal harmony on the model of the joint Hindu-Muslim uprising so as to deliver India its truer freedom.