Houthi rebels missile attack on Abha airport: 25 injured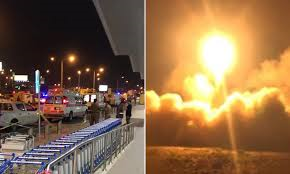 And once again the Yemen's Houthi rebels fire ballistic missile at Saudi Arabia.
According to the Saudi forces, the attack was carried out on Wednesday (02:21am local time) that fell on the Saudi Arabia's ABHA airport. Around 26 civilians were injured in this attack. Eight serious were taken to the nearest hospital for medical aid. 18 others were relieved after first aid on spot. The airport also suffered damages in this terrorist attack.
Houthi-run Masirah TV acknowledged and accepted this attack to be carried out by Houthis in response to Saudi Arabia's inhumane policies in Yemen.
Some sources also claim that such terrorist attacks are backed by Iran who is providing weapons to the Yemen for carrying this kind of terrorism.