Failure in Brexit: Theresa May finally resigns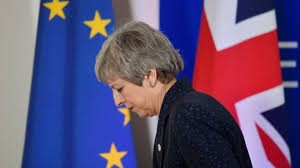 Her Brexit plans failed again and again to impress squabbling MPs in parliament, but she soldiered on regardless. Until now.
In an emotional statement outside her office in Downing St, Mrs May finally announced she was stepping down as prime minister.
She will quit as Conservative party leader on 7 June but will stay in office until a successor is found.
Mrs May – who became the UK's second female prime minister in July 2016 – had been under sustained pressure from lawmakers opposed to her Brexit plans.
Mrs May had been struggling to get parliamentary support for the legislation needed to implement the deal she had agreed with the EU on how the UK would leave the bloc.
Her deal was rejected three times by Parliament. Efforts to find a compromise with the opposition Labour Party also failed.