Rest in peace Mr. Morsi, Eqypt's ex-president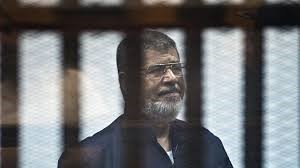 Egypt's former President Mohamed Morsi has died after appearing in court in the capital, Cairo, according to authorities.
The public prosecutor said the 67-year-old collapsed in a defendants' cage in the courtroom and was pronounced dead in hospital at 4:50pm local time (02:50 GMT) on Monday.
"Morsi died today while attending a session in his trial on espionage charges. During the session, he was granted permission to address the judge," a presenter said.
Morsi had a history of health issues, including diabetes, liver and kidney disease. He had suffered from medical neglect during his imprisonment, compounded by the poor conditions in jail.
"The government of Egypt today bears responsibility for his death, given their failure to provide him with adequate medical care or basic prisoner rights," the group said in a statement.