Telenor Pakistan wins PSHRM's Best Place to work in Telecom award 2019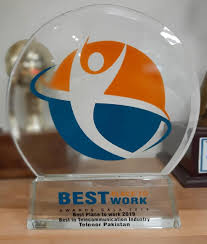 One of Pakistan's leading digital and cellular service providers, Telenor Pakistan, has yet again bagged the 'Best Place to Work in Telecom' Award 2019 presented by Pakistan Society of Human Resources Management (PSHRM) and Engage Consulting.
This is the fourth consecutive year the company has won this prestigious award that recognizes its initiatives to provide an enabling work environment for its employees.
Besides having a flexible way of work, an open workspace, and modern in-house facilities, Telenor Pakistan also takes pride in having an inclusive and diverse work culture. The company is also the first to introduce exclusive induction programs for female candidates on a career hiatus (Naya Aghaaz) and people with disabilities (Open Mind Trainee Program).
Telenor Pakistan won the 'Best Place to Work in Telecom' award by PSHRM last year as well.