Pakistan raises Kashmir situation at Speakers' Conference in Maldives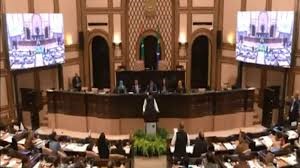 Deputy Speaker National Assembly Muhammad Qasim Khan Suri raised the Kashmir issue in the fourth South Asia Speakers Conference on Sustainable Development Goals (SDGs). Indian Lok Sabha speaker objected to Suri's comments and termed Kashmir issue India's internal matter.
As per details, Pakistan has successfully highlighted Kashmir issue and plight of suppressed Kashmiris in Speakers Conference in Maldives and knocked out India in the forum.
Qasim Suri, who was leading the Pakistani delegation, became the voice of Kashmiris and raised the issue in front of international community. He told the audience about Indian aggression on innocent Kashmiris.
The Pakistani delegation protested against the illegal move of BJP government that revoked the special status of Kashmir.
Indian delegation created ruckus and tried to interrupt Qasim Suri but effectively intercepting Indian participants in the conference, he kept on speaking for 14-minutes.