Firing incident in Texas, five killed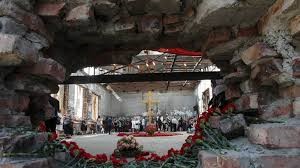 The attack began at a traffic stop, the authorities said, and the gunman is dead.
Seven people were killed and at least 21 others were injured in a brazen daylight drive-by mass shooting in the West Texas cities of Midland and Odessa on Saturday, as a gunman drove on the highways and streets opening fire on residents, motorists and shoppers, the authorities said.
The attack at the start of Labor Day weekend terrified sister cities 20 miles apart with a combined population of 263,000, less than a month after gunmen killed 31 people in El Paso and Dayton, Ohio, in back-to-back massacres that stunned the nation and revived the debate in Washington over gun control.
The chief of the Odessa Police Department, Michael Gerke, said at a news conference on Saturday that the attack had begun after a traffic stop. The gunman fled the police and hijacked a postal truck, firing at civilians as he made his way into Odessa.