Malaysia announces restriction from entry of twenty three countries, Pakistan included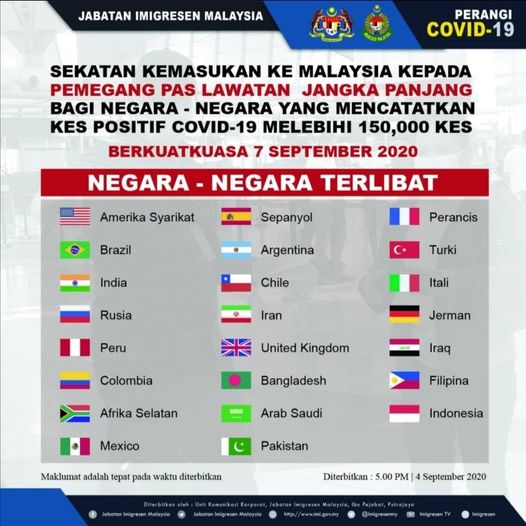 An entry ban was announced by Malaysia that declares  restriction from entry of twenty three countries. Pakistan is included in the list.
Malaysia's immigration department announced on social media that it was restricting the entry of "Long Term Visit Pass Holders" from the 23 countries as they had reported over 150,000 COVID-19 cases.
The list of twenty three (23) countries with a ban on entry into Malaysia are as follows:
Pakistan,

India,

Iran,

USA,

Brazil,

Russia,

Peru,

Colombia,

South Africa,

Mexico,

Spain,

Argentina,

Chile,

United Kingdom,

Bangladesh,

Saudi Arabia,

France,

Turkey,

Italy,

Germany,

Iraq,

Philippines and

Indonesia.
This move was taken after a sharp spike was seen in reported cases during the last three months.
Malaysia currently has 9,459 confirmed corona virus infections and 128 deaths. Sixty two (62) new cases were reported this week.
Of the total new cases reported, 50 were detected in an existing cluster in Sabah state on Malaysian Borneo, stemming from the detention of two undocumented migrants two weeks earlier, the health ministry said.
The others were detected in a new cluster in the northern state of Kedah and six arrivals from Turkey, Bangladesh, Indonesia and Egypt, the ministry said in a statement.