Israel demolished Palestinian homes in Jerusalem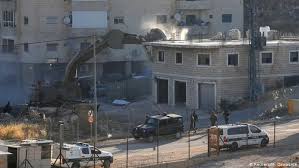 Hundreds of Israeli troops with bulldozers tore down homes in the Palestinian village of Sur Baherdespite local protests and international criticism.
Residents of the village's Wadi al-Hummus neighbourhood told local media on Monday that 16 residential buildings with about 100 apartments were being demolished.
"Preparations started past midnight as hundreds of armed Israeli occupying soldiers/ bulldozers stormed the town. Families threatened with demolitions were woken up/ moved out of their homes," said a tweet by the Palestinian Liberation Organization (PLO).
The Israeli military considers the homes, which are close to an Israeli separation wall that criss-crosses the occupied West Bank, a "security" risk.
The Israeli Supreme Court ruled in favour of the military last month, ending a seven-year legal battle, and set Monday as the deadline to knock down the homes. Palestinians say the demolitions set a precedent for other towns along the route of the barrier, which runs for hundreds of kilometres around and through the occupied West Bank.