Gulf tanker attack, Pentagon claims IRCG behind this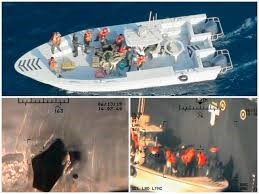 The Pentagon has released new color photos as proof that Iran was behind last week's attack on two oil tankers in the Gulf of Oman.
The release is part of an ongoing effort by the Trump administration to declassify US intelligence gathered on Thursday when two tankers suffered damage by what the US has said were magnetic mines placed on the side of the Kokuka Courageous.
Last Friday, US Central Command released a grainy video that showed, what it claimed, was a crew aboard an Iranian Revolutionary Guard Corps (IRGC) boat removing an unexploded mine that was left on the ship's hull.
The photos were taken by an MH-60R helicopter that had arrived at the Kokuka Courageous' location along with the destroyer USS Bainbridge, said a defense official.