Govt. and opposition talks in progress on Azadi march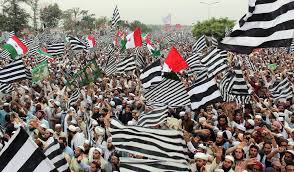 Two separate meetings of the opposition's Rehbar Committee and Pakistan Tehreek-e-Insaf's parliamentarians will take place on Thursday as both parties decide their future strategy regarding the Azadi March.
The Rehbar Committee meeting will be held today at Jamiat Ulema-i-Islam-Fazl (JUI-F) leader Akram Khan Durrani's residence in the afternoon. Meanwhile, Prime Minister Imran Khan has also summoned a PTI's parliamentarians meeting today.
On Wednesday, Punjab Assembly Speaker Chaudhry Pervaiz Elahi met JUI-F Chief Maulana Fazlur Rehman to hold talks. Following their meeting, Elahi said positive progress is being made in the talks between the government and opposition regarding the Azadi March. In the past few days, Elahi has met the JUI-F chief several times over to facilitate the ongoing negotiations.
However, both parties have reached a deadlock as Rehman sticks to his stance of demanding the prime minister's resignation and fresh elections without any role of the army.