Kashmir Solidarity Day observed across Pakistan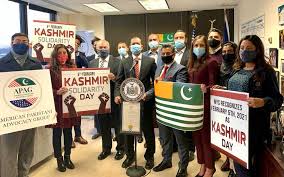 Kashmir Solidarity Day was observed across Pakistan on Sunday 5th of February this year. Rallies and events were organized at multiple levels. This day is also celebrated in honor of the Kashmiris who have lost their lives in the fight for freedom.
Pakistan reaffirms its solidarity with the Kashmiri people. Mass rallies, peace walks were held across the country to invite attention of the international community towards the plight of the oppressed Kashmiri people. The participants held banners and charts and chanted slogans against the continuous atrocities of Indian forces against Kashmiris living in the Indian Occupied Jammu and Kashmir.
A walk was jointly organized by the Ministry of Foreign Affairs and Kashmir Affairs and Gilgit-Baltistan, here in Islamabad.
Adviser to Prime Minister on Kashmir Affairs and Gilgit-Baltistan, Qamar Zaman Kaira while addressing the solidarity walk said Pakistani nation was observing the Kashmir Solidarity Day (February 5) across the world to give a strapping message of supporting the right to self-determination.