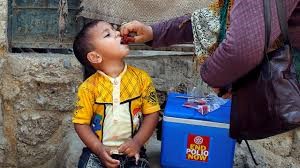 Due to consistent refusal of parents to vaccinate their children, five more children were tested positive for polio virus in Khyber Pakhtunkhwa on Thursday, taking up the total count of such cases in the province to 26 during 2019.
Provincial government is consistently aiming to aware the community of polio virus and risk it poses to the children in the form of paralyses and often death in extreme cases. But unfortunately, there are some parents/caregivers who have doubts about vaccine safety and they refuse to get their children administered polio vaccine propagation of virus and more polio cases.
Khyber Pakhtunkhwa EOC Coordinator Kamran Afridi said: "Polio virus will keep on inflicting children unless families and parents understand the fact that they are putting their children at risk of being paralyzed".
He said, "Virus targets unimmunised children and all the five polio cases confirmed today were not vaccinated even once during routine immunization campaign".
He appealed to parents/caregivers, elders, religious leaders, influential and society to realise the fact that polio was paralysing the children and their future. "We need to play our part to save our children from paralysis and ensure administering anti-polio vaccine during every campaign.