DG ISPR strikes India with Twitter trend: 'Beginning of the End'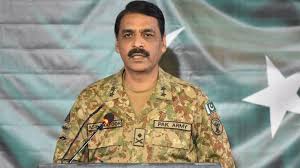 DG ISPR, Maj Gen Asif Ghafoor, is spearheading another social media campaign against the ultra-nationalistic government of BJP on social media titled, 'Beginning of the End'. With the hashtag, 'Beginning of the End', Asif Ghafoor has been sharing the videos and images of mighty protests in Jammu Kashmir and across India on his Twitter handle.
He recently shared the short clip of an Indian security official who was describing an incident of a few youngsters aged between 18-22 chanting Pakistan Zindabad slogans during a protest in Meerut, India. The incident was sporadic since earlier, Pakistan Zindabad slogans had been raised several times in Jammu Kashmir and not in other states of India. Earlier, the videos of a security official threatening boys with severe consequences and asking them to go to Pakistan went viral on social media.
From highlighting the persecution of Kashmiris and Indian Muslims, he is utilizing the social media trend to bring forth all that is bad with the BJP government.