China's Xi to meet Korea's Kim today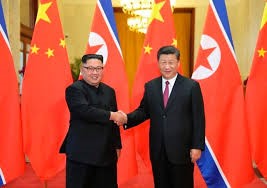 President Xi Jinping has landed in North Korea for a historic trip to Pyongyang, rebooting a troubled alliance as he and North Korean leader Kim Jong-un face their own challenges with US president Donald Trump.
Xi's visit is the first by a Chinese president to North Korea in 14 years, after relations between the cold war-era allies deteriorated over Pyongyang's nuclear provocations and Beijing's subsequent backing of UN sanctions.
It also comes amid a breakdown in talks between Pyongyang and Washington over the North's nuclear programme, months after Kim's second meeting with Donald Trump ended in failure.
Xi will pay a two-day state visit with his wife, Peng Liyuan, foreign minister Wang Yi and other officials.
Xi is expected to pay homage at Pyongyang's Friendship Tower, a monument to the Chinese troops who saved the North from defeat during the Korean War.