Car bomb explodes in Libya killing four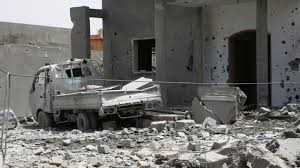 At least four people were killed and 33 wounded when two car bombs exploded at a funeral for a former Special Forces commander in the eastern Libyan city of Benghazi.  
Those killed in Thursday's blast included two civilians and two soldiers, while soldiers, police, and civilians were among the injured, Interior Ministry spokesman Tarek el-Kharraz told The Associated Press.  
Several senior Libya National Army (LNA) figures, including current head of the Special Forces Wanis Bukhamada, attended the funeral service when the explosions happened, but none of the military leaders was killed or wounded, Kharraz said.  
Al Jazeera's Mahmoud Abdel wahed, reporting from the capital, Tripoli, quoted medical sources in Benghazi as saying the death toll could rise, with many of those wounded in critical condition.  
No immediate claim of responsibility was made.