Canadian MP Iqra Khalid calls for end to atrocities in Indian occupied Kashmir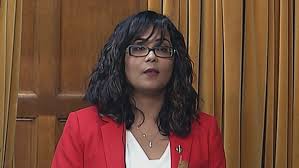 Canadian MP Iqra Khalid has called for an end to the Indian atrocities in the Indian occupied Kashmir area. This means a call to end inhumane behavior in Indian Illegally Occupied Jammu and Kashmir (IIOJ&K) and resolution of Kashmir issue as per UN Security Council (UNSC) resolutions.
Ms. Khalid is a Member of House of Commons of Canada. While addressing a webinar arranged by the Canadian Foreign Policy Institute and few civil society organizations, on the subject of "Canada's Silence on India's Colonization of Kashmir" she shared that the Canadian government has deep concerns on this issue and are not with the Indian escalation and detentions. They are very much concerned with the plight of miserable people in the region and their deplorable situation due to lockdown in the area.
She said that it is time for all parties in the international community to sit together and find a peaceful solution that preserves and protects the rights of the innocent Kashmiri people as shown by UNSC resolutions, one of which Canada co-sponsored.
The webinar was also addressed by an elite panel of academics, authors and civil society activists. They included noted attorney, author and entrepreneur Imraan Mir, Associate Professor at Ohio University Haley Duschinski, Associate Professor at the University of Toronto Malavika Kasturi, scholar Siddiq Wahid and legal academic and writer Azeezah Kanji.
The event offered an overview of the long-standing conflict in the light of international law; human rights situation and issues of impunity; Hindu nationalism project and the colonization of Kashmir.