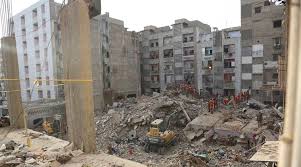 A multi storey building collapsed in Lyari area on sunday. The building was being used as a residential setup and therefore many people died and several others were injured.
The five-storey building, located in Liaquat Colony of Lyari, had more than 40 apartments and a penthouse on the top floor. The Sindh Building Control Authority (SBCA) had declared it as dangerous and unstable more than two months ago.
The rescue operation was started as soon as the news reached. Police, army and rangers rushed to the area to began rescue activities. So far fifteen bodies were recovered and shifted to hospital. The injured ones were also shifted to hospital.
PPP Chairman Bilawal Bhutto Zardari expressed great regret over the loss of precious lives in the incident.
Pakistan Army's rescue team was sent to the incident site and security forces at the site were rescuing and evacuating people in the operation. Sindh Rangers said their teams, as well as those of the Army, were on site of the collapsed building. Rangers also helped in evacuating nearby buildings.
According to a document from the SBCA, the ground-plus-five storey residential building was declared dangerous and unstable back on March 18. Notices were all issued to all residents, as well as the owners of all the flats, and were instructed to evacuate within 15 days. Along with this SBCA had also written letters to relevant authorities to disconnect the electricity, gas, and water supplies.