Baldev Kumar files for political asylum in India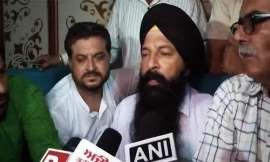 Former PTI lawmaker Baldev Kumar is seeking political asylum in India and has accused the Imran Khan-led government of mistreating minorities in Pakistan.
Kumar is currently in India on a three-month visa for medical treatment of his 12-year-old daughter who is a Thalassemia major patient. In a press conference on Tuesday in Khanna, India, the former PTI lawmaker alleged that Pakistan was an "unsafe country".
"[Even] Muslims are not secure there [Pakistan], how can a Sikh like me be secure there?"
When a reporter said that "his party" [Pakistan Tehreek-i-Insaf] was in power in the country, he replied: "[Yes], my party is in power in the country […] Prime Minister Imran Khan was talking about a 'new Pakistan' but the old one was better compared to this new Pakistan."
"Minorities are not safe in Pakistan, not at all," he claimed, also accusing the government of "playing politics" on the Kartarpur corridor.