320 Pakistani prisoners return today from Malaysia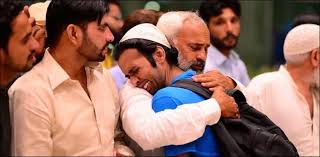 Emotional scenes of family reunion were witnessed at Islamabad International Airport (IIA) when 320 Pakistani prisoners, recently released by Malaysia, arrived here late on Wednesday night.
Special Assistant to the Prime Minister (SAPM) on Overseas Pakistanis and Human Resource Development Sayed Zulfikar Bukhari, who pursued the prisoners case in the federal cabinet, received the prisoners at the airport. Families of the prisoners appreciated efforts of the SAPM for bringing their love ones back home.
Minister for Aviation Ghulam Sarwar Khan, Pakistan Bait-ul-Mal (PBM) Chairman Aoun Abbas, Parliamentary Secretary for overseas Pakistanis Javeria Aheer and officials from Ministry of Foreign Affairs and Overseas Pakistanis Foundation were also present on the occasion.
The arrival lobby echoed with 'Pakistan Zindabad' and 'PTI (Pakistan Tehreek-e-Insaf) Zindabad' and slogans chanted by the released prisoners, expressing gratitude to the incumbent government for the remarkable initiative.