Sharjeel Memon gets bail in corruption case from Sindh High Court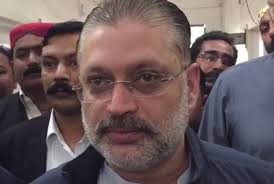 The Sindh High Court (SHC) on Tuesday granted bail to Pakistan People's Party (PPP) leader Sharjeel Memon in a corruption reference pertaining to the award of advertisements at 'exorbitant rates' through the abuse of power.
The court asked the PPP leader to submit a bond worth Rs. 5 million to procure bail and directed to place him on the no-fly list.
At the outset of the hearing, the court asked if it had been proven that Memon had received kickbacks from the deal with the advertising company.
"It has not been proven that Memon has received kickbacks from the deal," the investigation officer conceded but added that the former minister had used his position of power in an unjust manner.
NAB team had taken Memon and 11 others into custody on Oct 23, 2017, after the Sindh High Court had rejected his bail plea.