Thirteen killed in Iran through live gunfire at protesters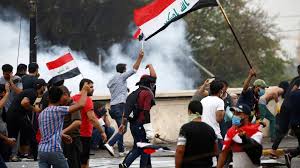 Iraqi security forces have shot dead at least three protesters and wounded over a dozen more as anti-government rallies turned violent outside the Iranian consulate in the holy city of Karbala.
There were unconfirmed reports on Monday that riot police had also opened fire in the capital Baghdad, killing a further five people.
Both incidents mark the latest wave of violence in the country ripped apart by weeks of protests, triggered by soaring unemployment, government corruption and substandard public services.
In total over 250 people have been killed and nearly 10,000 wounded since the demonstrations started in early October.
The country's Prime Minister Adil Abdul-Mahdi pleaded for calm writing on his Facebook page: "It is about time for life to return to normal."
But Sunday night, dozens of young protesters set tyres ablaze in Karbala, a Shia shrine city, before moving on the Iranian consulate chanting: "Iran leave leave, Karbala remains free."
Protesters have increasingly directed their anger at Tehran, which has close ties to the government, Shia political factions and powerful paramilitary groups.