Tech Giant Lenovo releases 'New Realities'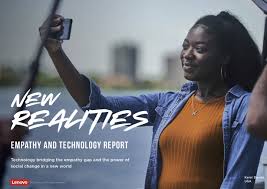 The Tech Giant Lenovo has released a new film. The project/ film is named as NEW REALITIES. It aims to show case the global issues that are affecting the women.
Presented by Lenovo along with Girl Up  and Array, the film was produced in four months and by the film maker Ava Du Vernay. It is an artistic project blending filmmaking and virtual reality to produce immersive, first-person cinematic experiences.
Though the videos can be viewed on YouTube, they are designed to be viewed on VR headsets, one of which is Lenovo's Mirage VR S3 headset.
TEN YOUNG WOMEN TEN COUNTRIES ONE WORLD
It features the journeys of ten young women from around the world using technology to achieve their dreams. Lenovo, with US headquarters in Morrisville, said the films give each woman their own voice and shine a light on the role technology plays in furthering their missions. They hail from Brazil, China, France, Germany India, Italy, Japan, Mexico, the UK and the US.
Lenovo is the technogoly giant in making of laptops and other tech devices.
Girl Up is the gender equality initiative of the United Nation Foundation (UNF)
ARRAY is a multi-platform media company and arts collective based in Los Angeles. Founded in 2012 by filmmaker DuVernay, the company currently operates a trio of branded entertainment entities: ARRAY Releasing, ARRAY Filmworks and ARRAY Creative Campus in partnership with the non-profit cinema and social justice organization ARRAY Alliance.
In addition to the  film, Lenovo – in partnership with Girl Up – is funding $100,000 in grants for these young women to pursue fields of study that align with their goals.
To view the film, please click this link.