Nine Daesh militants killed in Iraq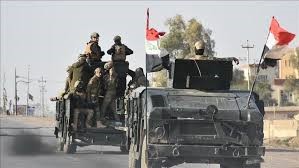 In Iraq, nine Daesh militants have been killed in an operation by armed forces in Iraq's northern province of Nineveh.
On Tuesday, nine Daesh terrorists were murdered as a result of a raid in Iraq's northern province of Nineveh, the Iraqi military emphasized.
An Iraqi force, identified as Falcons intelligence unit, supported by U.S.-led international coalition's aircraft, completely damaged a tunnel in al-Sahaji area, in southwest of the provincial capital Mosul, murder nine Daesh terrorists inside, Yahya Rasoul, spokesperson of the Iraqi Joint Operations Command, affirmed in a statement.
After Iraqi forces managed to defeat the Daesh terrorists inside the country, the security situation in Iraq has improved.
Daesh terrorists remnants are still conducting attacks in particular areas in the nation.