Iran threats for violations to nuclear deal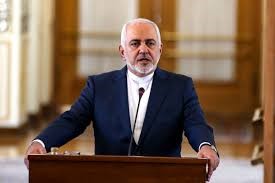 Iran will no longer adhere to certain limits of the 2015 agreement that restricts its nuclear activities, the government announced on May 8, threatening to breach other restrictions if the states party to the agreement do not deliver the deal's envisioned economic benefits.  
The announcement came exactly one year after the United States withdrew from the nuclear deal, known as the Joint Comprehensive Plan of Action (JCPOA), and began to reimpose sanctions that were lifted as part of the agreement. Over the past year, US President Donald Trump and other administration officials have escalated their use of bellicose language as they implement their strategy of "maximum pressure" on Iran.
Iranian President Hassan Rouhani described Iran's proposed steps as a reduction in compliance with the deal and emphasized that Tehran is not withdrawing from the JCPOA. He said Iran made this decision because it has received little economic benefit under the deal despite its continued compliance. Rouhani said Iran has no interest in waging war but "will not give in to bullying."