IOK turned into open air prison, says Raja Farooq AJK PM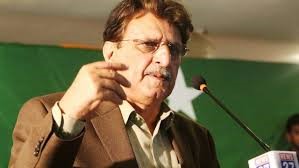 Azad Jammu & Kashmir (AJK) Prime Minister Raja Farooq Haider Khan informed British parliamentarians that India has turned Occupied Kashmir (IOK) into the world's largest open-air prison, denying even basic human rights to a population of around seven million people.
A press release issued on Saturday said that during a meeting with the cross-party MPs at the House of Commons, the AJK prime minister said that more than 800,000 Indian army troops have made the whole area into the most militarised zone on this planet.
The AJK premier thanked the MPs for debating the issue of occupied Kashmir in the House of Commons for three hours last week and calling on the United Nations to intervene and speak out against Indian terrorism.