India gets a setback in space program, moonlander disappears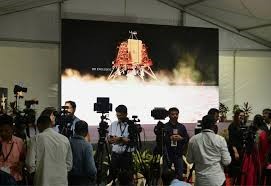 India's first attempt to land on the moon went awry early Saturday when the country's space agency lost contact with the lander as it neared the lunar site, minutes before touchdown was expected.
Hours later, there was still no official word on whether signals disappeared because of a problem on the lander or because it crashed onto the surface of the moon, but Prime Minister Narendra Modi, in an address to the nation Saturday morning, indicated that the mission had failed.
"We came very close but we need to cover more ground," Modi said. "Our determination to touch the moon has become even stronger."
Launched in July, Chandrayaan-2 had successfully completed Earth and moon orbits and was set to execute a controlled landing on the lunar south pole, a previously unexplored region.
The incident could now set back India's growing space ambitions, seen as a reflection of the aspirations of its young population.