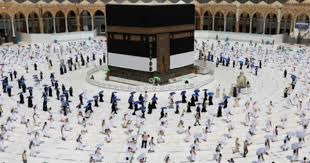 Hajj 2020 begins with social distancing and reduced pilgrims.
The Hajj, one of the five pillars of Islam and a must for able-bodied Muslims at least once in their lifetime, is usually one of the world's largest religious gatherings.
Every year millions of Muslims seek this opportunity and perform Hajj. However this year due to the pandemic of Covid-19, social distancing was placed as mandatory during all acts of Hajj.
Last year 2.5 million performed Hajj from aroun the world as compared to this year having only 1,000 people. These one thousand include only those who were already residing in the state and no outsiders are allowed.
In a sign that its strict measures were working, the health ministry reported no coronavirus cases in the holy sites on Wednesday, although 122 cases were reported in Makkah.
The pilgrims, who have all been tested for the virus, are required to wear masks and observe social distancing during the rites completed over five days in the holy city of Makkah and its surroundings.
The pilgrims said they were given ihram, the traditional seamless white hajj garment, made from a bacteria-resistant material.
Those selected to take part were subject to temperature checks and placed in quarantine as they began trickling into Makkah at the weekend.
Authorities have cordoned off the Kaaba this year, saying pilgrims will be barred from touching it, to limit the chances of infection.
Saudi authorities also reported setting up multiple health facilities, mobile clinics and ambulances to cater to the pilgrims.