FBR in action: serves tax notices to Nusrat Shehbaz and Maryam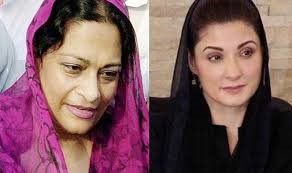 Federal Board of Revenue (FBR) on Monday issued tax notices to PML-N vice president Maryam Nawaz and to wife of opposition leader Shehbaz Sharif, Nusrat Shehbaz.
Sources said Rs. 12,57907 tax has been imposed on Maryam Nawaz while a total of Rs. 17,2659 tax has been imposed on Nusrat Shehbaz. The tax has been imposed on moveable properties. FBR sources said Rs. 65,7283 tax on Maryam Nawaz is due for income support levy while Rs. 60,0684 is imposed for default surcharge. Nusrat Shehbaz has been asked to pay Rs. 90,210 for income tax levy and Rs. 82,449 for default surcharge.
In 2103 tax was imposed on Rs 131444578 moveable properties of Maryam Nawaz while moveable assets of Nusrat Shehbaz were worth Rs. 10904230 in 2013 on which tax was imposed.
FBR has asked them to pay their taxes till July 23 and after that recovery would be made by freezing their assets.