Happy Monsoon, rains started in different parts of Pakistan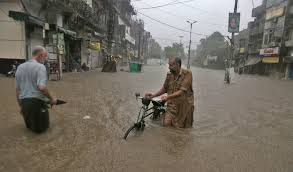 Different parts of the country, including upper Punjab, Khyber Pakhtunkhwa (KP), Gilgit-Baltistan and Kashmir, have received the first monsoon downpours, which has reduced the intensity of heat and turned the weather pleasant.
According to a Met department spokesperson, the highest rainfall of 75 millimeters has been recorded in Noorpur Thal Tehsil of Khushab followed by 41 mm in Faisalabad, 23 mm in Lahore, 22mm in Chakwal, 19mm in Rawalpindi and 11mm in Islamabad.
The spokesperson said that this rain spell will persist till the end of the next week, adding that some areas of Balochistan, including Zhob and Sibi, are also expected to receive rains during this period.
Dust-thundershower/rain, with isolated heavy falls accompanied by gusty winds, is expected at scattered places in northeast Punjab, including Rawalpindi, Gujranwala, Lahore divisions, Islamabad and Kashmir.