Welcome to Spam and Hoax section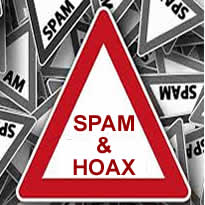 A very warm welcome to all our readers.
We have started this section to alert you all on the spam and hoax content received these days.
We will try to add up new posts on daily or weekly basis. This will help you to get rid of frauds, attacks and hackers.
If you have something new and similar to share with us, just drop an email to admin at mc090203195@gmail.com.