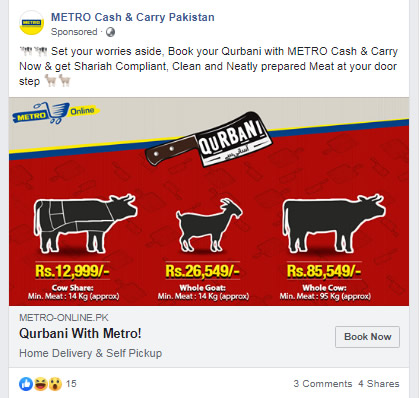 Metro Cash and Carry brings a new and unique offer to its customers for Qurbani.
Set your worries aside, Book your QURBANI with METRO CASH AND CARRY now and get SHARIAH compliant, clean and neatly prepared MEAT at your door step.
Cow Share: PKR 12,999/-
Whole Goat: PKR 26,549/-
Whole Cow: PKR 85,549/-
Live Animals also available for Booking.

Qurbani Online Booking Service at the Best Rates in Pakistan
Why book online is what you must be asking yourself? Booking with us will ensure that you are safe from
The hot weather outside
The very smelly Bakra Mandi's
The overcrowding of people in Bakra Mandi's
people who try to sell you very expensive animals as we get closer to Eid Ul Azha
No availability of easy home delivery service
you will have to arrange for a butcher
Qurbani is a sacred act, it doesn't have to be difficult or a hassle for you nor does it have to be overly priced. Look no further, book now and get the most comfortable Qurbani solution in Pakistan.
For more details visit: http://j.gs/Czyp